Best Baby Monitors For Camping Holidays
Are you going for a camping holiday with your kid? make sure to pack a monitor. Here is the list of best baby monitors for you to take.
You don´t have to cancel the family camping holiday just because you have a young baby or toddler.
The latest advancements in mobile technology allow parents to enjoy their trip in the great outdoors and still keep one eye on the baby.
But before you rush out and buy a baby monitor take a look at our list below to identify what types are on the market and their specifications which will best suit your circumstances.
Angel Care Movement & Sound Monitor
Users rave about the Angel Care Movement and Sound Monitor because it gives them peace of mind.
Fitted with motion sensing pads the baby monitor sends you an alert if your child doesn´t move for 20 seconds.
So when you are away from your tent or caravan during your family camping holiday you are still in touch with your child.
On the downside there is a high rate of false alarms and if you keep getting disturbed for no reason it will eventually get annoying.
But with a price tag of US$85 it is also one of the more affordable options considering its technical advantages.

Bebetel
The sophisticated Bebetel dial-up monitor plugs into a mobile phone and calls you on a receiving mobile when the battery-powered monitored detects movement or sound.
It also has a contact button so if you have children who can speak they can simply buzz you and ask rather than yelling across the campsite.
The Swiss made baby monitor also works the other way in that you can call the mobile to check in on your child without it ringing and disturbing your sleeping baby.
The drawback with this particular baby monitor is it only works with certain mobile phones so make sure it is compatible to your before you purchase.

The Philips Avent
With a price tag of US$85, the Philips Avent offers good value for money.
It runs off rechargeable batteries and works like most other one-way baby monitors so is only useful if you are in a quiet location outside your tent.
If there´s a group of you sat chatting round the camp fire you may not pick everything up.
One of the most significant factors about the Avent is that it works on a lower frequency than most electrical devices.
So if you are getting interference from radio waves, satellite or mobile phones on your current baby monitor the Avent is an ideal switch for home use.
Having one of these alarms would be a useful add on to your outdoor and camping equipment.

Sony BabyCall Monitor
One of the cheapest models on the market is the Sony Baby Call, and if budget is an issue it´s affordable price tag makes it a suitable purchase for camping.
It can be susceptible to interference and accidental eaves-dropping, but with 27 channel options to tune into you´re bound to find one that works. It also has an out-of-range indicator and runs on rechargeable batteries.

Summer Infant Day and Night Video Monitor
The most sophisticated baby monitor on the market that you can take for camping is the Summer Infant Day & Night handheld video monitor.
Considering the video and audio quality is better than average on the Day & Night, the price tag of US$140 can be considered budget friendly. You can also use it at home, it is a more worthwhile investment.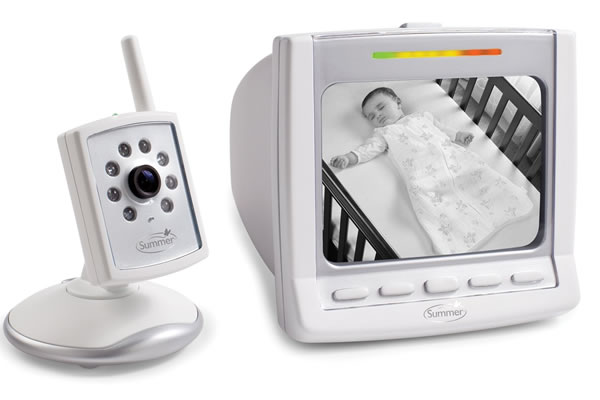 Things To Consider When Choosing a Good Baby Monitor
Make sure to choose a model with a frequency of 900 MHz or higher. This usually reduces possible interference and increase clarity.
Select a model with a sound-activated light. This function helps the monitor to flash whenever it detects noise. Therefore you can keep track of your infant while you're talking on the phone, vacuuming or listening to music.
A video monitor is more perfect. With this type of monitor you can tell whether the baby is still sleeping peacefully. Be sure to check for a monitor with sufficient low-light quality of the picture.
Find a type with a prominent "low-battery" light. This great feature will notify you when the monitor has lost its connection or low battery.
Look for a monitor with a wireless function. A wireless receiver gives you the options to finish chores inside and outside the house. If you wish to free up your hands, endeavor to choose a monitor with a belt clip.