Top 10 Things To Do In Munich, Visit Germany
Whether you are in Munich for weeks or months this city has a lot to occupy your days.
The art museums with a wealth of masterpieces add to the opulent Baroque churches, lively nightlife and cocktails of beloved sights.
Leaving alone that Munich still stands with abundant things that will leave you with everlasting memories. Since the list is endless we have tried to select some of the tourists' favorites.
Alte Pinakothek
This is a dream for art lovers. Dating to 1836, the Alte Pinakothek is amongst the World's oldest art galleries.
With its Neo-Renaissance design, this monument was meant to house the Wittelsbach dynasty's exceptional collection.
It inspires visitors with multiple paintings done different masters such as Albrecht Durer, Van Dyck and Peter Paul Rubens.
Munich Residenz
Located on the northern edge of the city, Munich Residenz started as a 14th-century castle for the Wittelsbach monarchs but turned into a palace complex of ten courtyards and 130 rooms.
With its Renaissance, Rococo, Baroque and Neoclassical styles, this palace is a sight to behold.
It differentiates itself with a lavishly adorned Antiquarium banquet hall and gilded mouldings in the Baroque Ancestral gallery.
Neues Rathaus
This town hall is a must for any visitor to Munich. It's festooned with pinnacles, statues of the first four Bavarian kings and niches with little trefoil arches.
Its construction was finished in 1874 but later expanded to 400 rooms when the city's population doubled in less than 20 years between 1880 and 1900.
Englischer Garten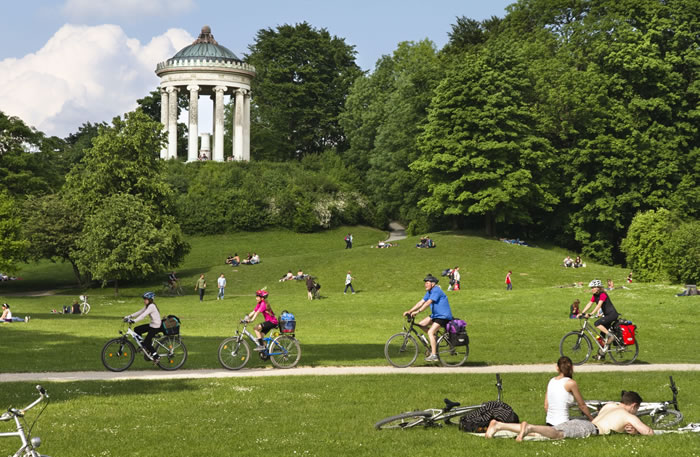 Covering a total area of 370 hectares, this 18th-century park includes tree groves, pasture, waterways, a lake and lawns. It is listed among the largest urban parks in the World.
Most travelers are drawn by the spectacular sights like the Japanese teahouse and the Chinese Tower based on Kew Garden's pagoda, but this place is also ideal for surfing.
Neue Pinakothek
Are you after pretty art? Neue Pinakothek is the best for you to start. This historical site showcases over 400 paintings from the 1800s.
It also shelters German Romantics like Caspar David Friedrich and Karl Friedrich Schinkel, Impressionist Art by Cezanne, Monet, Degas, Renoir and Gauguin.
Marienplatz
Nestled at the Centre of the city, this square was named for a Marian column that was raised here in the 17th century. It welcomes tourists who come in for sightseeing, shopping and relaxation.
Other allures that enchant visitors include a monument that celebrates withdraw of the Swedish troops from Munich and a golden statue that was sculpted in 1590.
Visit the St Peter's Church
First built at the end of the 1100s but destroyed by fire in 1347, this religious structure is the oldest church in Munich.
Its reconstruction was made in the Gothic style and includes many extensions that leave the monument with Baroque and Renaissance elements.
It rests atop the hillock and you can easily get there by ascending over 299 steps. From this church views of the city's landmarks are awesome.
Deutsches Museum
If museums are a reason alone for your trip to Munich, make sure not to ignore Deutsches. This historical site sits on an island in the Isar.
It maps the development of Science and Technology in Germany. It consists of galleries with multiple fields including aerospace, astronomy, hydraulic engineering and nanotechnology.
With its interactive exhibits, this museum is ideal both for kids and adults.
Pinakothek der Moderne
Other than Deutsches, Pinakothek der Moderne is a remarkable alternative. Its galleries are stocked with artworks that are done by the prominent names of the last 100 years.
Visitors check in to appreciate the expressionism exhibition from artists like Kandinsky, Klee, Franz Marc, the Brucke and Blaue Reiter groups.
Once in the Modernism galleries, you will admire the Braque, Francis Bacon, Picasso, Magritte and Otto Dix.
For those who are after present-day works don't miss the contemporary galleries to see works by Andy Warhol, David Hockney and Sigmar Polke.
Lenbachhaus
Another historic place not to miss in Munich is Lenbachhaus. It houses many art pieces from numerous Expressionists like Franz Marc, Gabriele Munter, August Macke and Kandinsky.
More to admire is the contemporary art by Andy Warhol, Jenny Holzer and Gerhard Richter. This museum was named for the portrait painter Franz von Lenbach who commissioned it in the 1880s.